News & Updates
Asteria is back up and running! Season One is complete and Season Two is well underway. Enjoy, sit back, and perhaps enjoy a glass of wine--just like your moderators!
Be sure to check out the updates to
Across the Universe: A Guide to the Galaxy
!

Familiarization with the planets, moons, and systems of Asteria is what can take your writing to the next level and help you to create an in-depth universe for your characters to interact in. Each post contains information about the different settings of Asteria and are subject to updates. Please enjoy the presentations below, organized alphabetically by planet.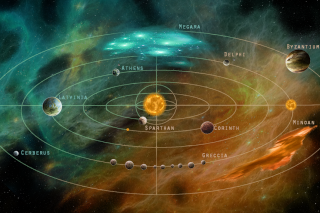 Map of the Aegean System, created by Shelby of Asteria. Do not share, steal, or alter without express permission.
Last edited by Shelby on Thu Jul 10, 2014 1:34 am; edited 3 times in total
Last edited by Shelby on Tue Jul 01, 2014 3:32 pm; edited 5 times in total
Last edited by Shelby on Tue Jul 01, 2014 5:08 pm; edited 1 time in total
Last edited by Shelby on Tue Jul 01, 2014 11:12 pm; edited 1 time in total
Last edited by Shelby on Tue Jul 01, 2014 11:24 pm; edited 1 time in total
Last edited by Shelby on Wed Jul 02, 2014 2:08 am; edited 1 time in total
Last edited by Shelby on Wed Jul 02, 2014 5:16 pm; edited 1 time in total
Last edited by Shelby on Fri Jul 04, 2014 3:30 pm; edited 1 time in total

---
Permissions in this forum:
You
cannot
reply to topics in this forum